New Mining Bonuses – Earn Up To 5,000 IRON
1 year ago
We are happy to announce a new Mining Bonuses is now live; with a twist. While we have historically included two games as part of Mining Bonuses, this time we are including a Mystery Core where you could earn up to 5,000 IRON. Do we have your attention?
New Mining Bonuses – Earn Up To 5,000 IRON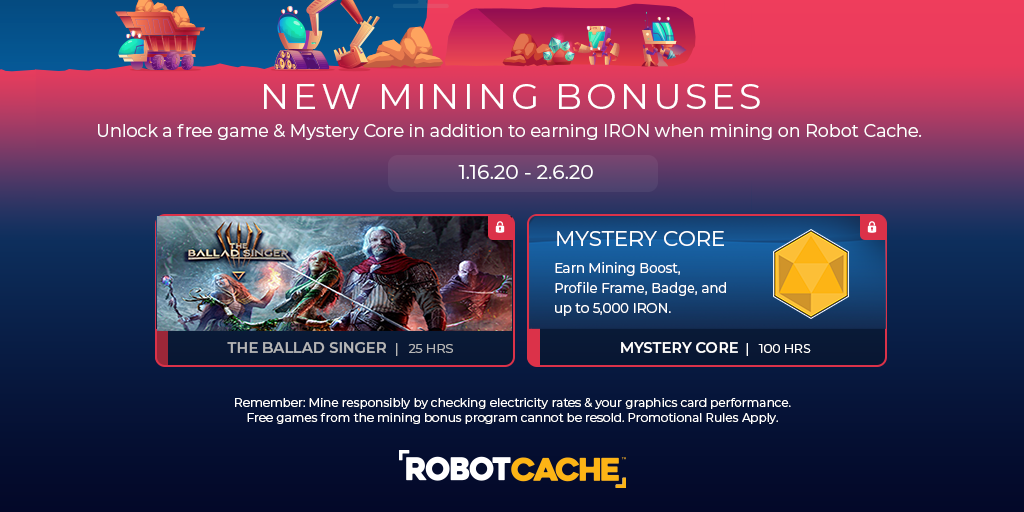 The first rewarded included in this new Mining Bonus is the game The Ballad Singer. The Ballad Singer, from publishing partner Forthright Entertainment, is an RPG/Graphic Adventure, set in a fantasy world completely controlled by the player's choices. TBS offers a fantasy story yet to be written, where the world changes and reacts to the player's actions.
The second reward in the new Mining Bonuses is a Mystery Core. The Mystery Core includes a new profile badge, profile frame, mining boost, and your chance to earn up to 5,000 IRON. Think of all the games you could buy with 5,000 IRON.
But don't wait too long. This new Mining Bonus and your chance to earn 5,000 IRON ends February 6th, 2020.
Mining On Robot Cache
Mining is your opportunity to earn a lot of fun items to be used on Robot Cache. When you opt into mining on Robot Cache, you will always be earning more and more IRON. IRON is Robot Cache's virtual currency that you can use to buy games. But you can also earn a bunch of other items when you mine on Robot Cache. One of the most exciting things you can earn are free games via our Mining Bonuses program. We have already implemented six Mining Bonuses where users could have earned up to twelve games.
Be sure you continue to follow Robot Cache on Twitter and Discord so you know when our next Mining Bonuses are live.
About Robot Cache
Robot Cache is the world's first videogame marketplace to buy PC games, resell them when you're done and mine to earn free ones! We're committed to disrupting distribution to be more fair, transparent and inclusive, changing the standard forever because it's time.
If you're interested in Robot Cache, head over to our signup page to become a Robot Cache Founder (or hot tip; redeem code FASTPASS at https://www.robotcache.com/redeem-code and receive:
Access before the general public
Founder's Mining Boost
Name Reservation
A Founder's Badge
PLAY. MINE. SELL.