Happy Holidays – New Mining Bonuses Released
1 year ago
It's hard to believe 2019 is almost over and a new year is fast approaching. But before we ring in a new year, we want to make sure you have a great end to 2019. That is why we have some exciting news relating to mining.
Happy Holidays – New Mining Bonuses Released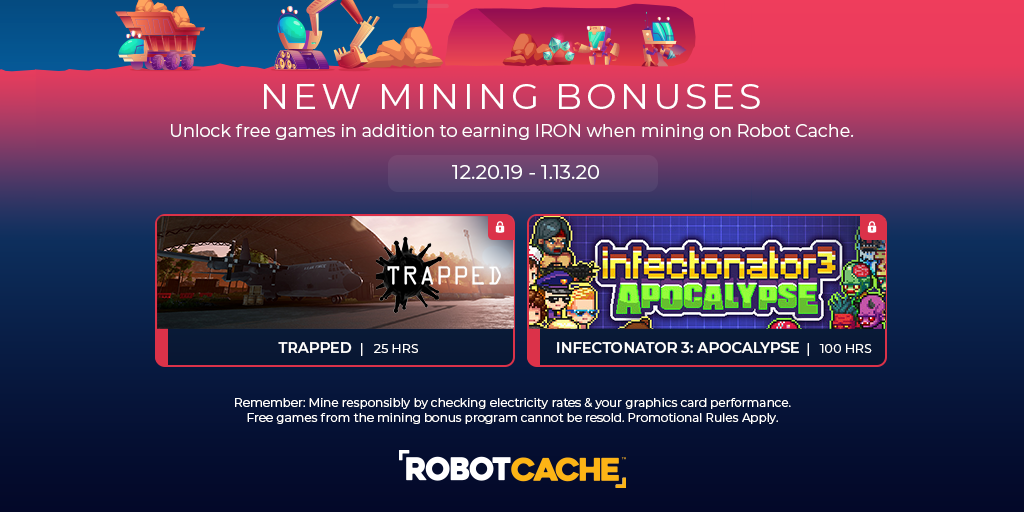 First to celebrate the happy holidays new mining bonuses released! Our latest round of Mining Bonuses feature TRAPPED from Forthright Entertainment & Infectonator 3: Apocalypse from Armor Games Studio. Are you ready to earn free games? Opt-in by turning on your miner in the client (you can download it from the main navigation) and watch your Mining Bonus hours tick up. When you mine for 25 hours and 100 hours respectfully, you will unlock your two new free games. We hope you enjoy. But don't delay, these mining expire on January 13th, 2020. To learn more about the terms and conditions of Mining Bonus click here.
New Fixes and Optimization For Mining
We know how many of you like our mining feature. And what's not to like? You get free games and earn platform currency called IRON just for opt-ing in and turning on your miner. Due to popularity, we are always going to be working to improve and optimize the mining experience. We want to make sure those that can mine are earning as much potential IRON as possible. And those that cannot mine, we are working hard to support more and more cards. That all being said, we are happy to announce we have significantly improved and optimized our mining feature. Additional cards are now supported and many users who can mine should see a significant increase in IRON earned from mining. Again, we hope you enjoy.
Thank you again to all of you for your continual help and support as we continue to make great progress building out the platform. If you're interested in Robot Cache, head over to our signup page to become a Robot Cache Founder (or hot tip; redeem code FASTPASS at https://www.robotcache.com/redeem-code).
About Robot Cache
Robot Cache is the world's first videogame marketplace to buy PC games, resell them when you're done and mine to earn free ones! We're committed to disrupting distribution to be more fair, transparent and inclusive, changing the standard forever because it's time. Sign up and receive:
Access before the general public
Founder's Mining Boost

Name Reservation

 

A 

Founder'

s Badge

 
PLAY. MINE. SELL.