Robot Cache Store Update
9 months ago
Every week we update the Robot Cache store. Whether it's new games being added, new rows being created, or sales, we are committed to creating a fresh storefront. Robot Cache was strategically designed to allow for maximum discoverability. By creating an infinite amount of rows that allow gamers to scroll up and down or left and right, it's never been easier to find the next hot game from your favorite publisher or discover something new. Check out the latest Robot Cache store update.
What's New On RC
New games added to Robot Cache headline our Featured Row.
GreedFall (https://store.robotcache.com/#!/game/614/greedfall). Explore uncharted new lands as you set foot on a remote island seeping with magic, and filled with riches, lost secrets, and fantastic creatures. Forge this new world's destiny, as you befriend or betray companions and entire factions. With diplomacy, deception and force, become part of a living, evolving world – influence its course and shape your story.
My Friend Pedro (https://store.robotcache.com/#!/game/652/my-friend-pedro). Blood. Bullets. Bananas. My Friend Pedro is a violent ballet about friendship, imagination, and one man's struggle to obliterate anyone in his path at the behest of a sentient banana. The strategic use of split aiming, slow motion, and the ol' stylish window breach create one sensational action sequence after another in an explosive battle through the violent underworld.
Wasteland 3 (https://store.robotcache.com/#!/game/403/wasteland-3). Pre-order this game set to launch in early 2020. In Wasteland 3 the fate of Arizona depends on the fate of Colorado. Enjoy challenging tactical combat, hours of exploration, & a deep, reactive story full of twists, turns, & brutal ethical decisions. Saving Colorado isn't going to be easy, but Arizona is counting on you, so… don't screw it up.
GRIS (https://store.robotcache.com/#!/game/653/gris). Gris is a hopeful young girl lost in her own world, dealing with a painful experience in her life. Her journey through sorrow is manifested in her dress, which grants new abilities to better navigate her faded reality. As the story unfolds, Gris will grow emotionally and see her world in a different way, revealing new paths to explore using her new abilities.
New Rows Added
With this recent publish not only came new games but the expansion of more rows.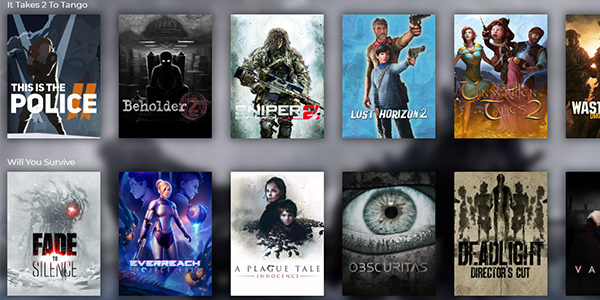 Robot Cache Store Update
As with any new Robot Cache Store Update includes Coming Soon games (https://store.robotcache.com/#!/category/9/coming-soon) and some new titles to the store (https://store.robotcache.com/#!/category/4/new-on-robot-cache).
About Robot Cache
Robot Cache is the world's first videogame marketplace to buy PC games, resell them when you're done and mine to earn free ones! We're committed to disrupting distribution to be more fair, transparent and inclusive, changing the standard forever because it's time.
If you're interested in Robot Cache, head over to our signup page to become a Robot Cache Founder (or hot tip; redeem code FASTPASS at https://www.robotcache.com/redeem-code and receive:
Access before the general public
Founder's Mining Boost

Name Reservation

 

A 

Founder'

s Badge

 
PLAY. MINE. SELL.