New Mining Bonuses Released
9 months ago
We are happy to announce new mining bonuses released! Starting now, you have the chance to add two more games to your Stash just from turning on your miner. The games part of this latest mining bonus are: Macrotis: A Mother's Journey & Torment: Tides of Numenera. Who wants free games?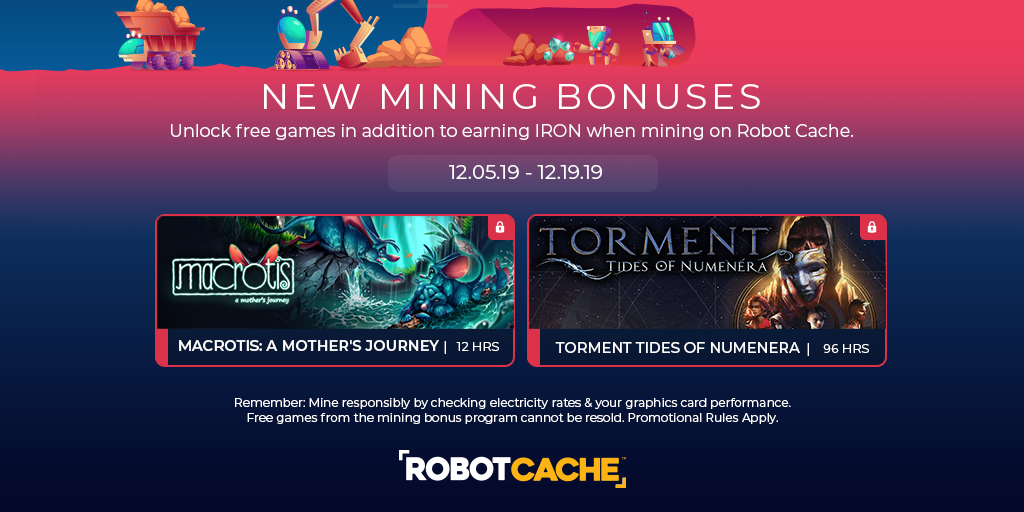 Macrotis: A Mother's Journey
Macrotis: A Mother's Journey is the first game in our current Mining Bonuses. Mine 12 hours before December 19th, 2019 and get rewarded with this exciting game.
Macrotis: A Mother's Journey is an unforgettable adventure for those who love being challenged. Go on this deeply emotional journey as Mother Bilby and save your beloved children who got separated from you because of a frightening flood caused by the never-ending rain. Climb, jump, and gnaw your way under the ground in Macrotis: A Mother's Journey, a 2.5D puzzle-platformer. Solve challenging puzzles by interacting with the beautiful yet dangerous world, while avoiding deadly traps that could end the adventure immediately.
Torment: Tides of Numenera
Torment: Tides of Numenera is the second game part of the current Mining Bonus. In Torment: Tides of Numenera, you are born falling from orbit. You take on a new mind in a body once occupied by the Changing God, a being who has cheated death for millennia. If you survive, your journey through the Ninth World will only get stranger… and deadlier.
With a host of strange companions you must escape an ancient, unstoppable creature called the Sorrow and answer the question that defines your existence: What does one life matter?
Torment: Tides of Numenera is a single-player, isometric, narrative-driven role-playing game set in Monte Cook's Numenera universe, and brought to you by the creative team behind Planescape: Torment and the award-winning Wasteland 2.
Mine 96 hours by December 19th, 2019 and you will be rewarded with Torment: Tides of Numenera.
To learn more about the terms and conditions of Mining Bonus click here.
About Robot Cache
Robot Cache is the world's first videogame marketplace to buy PC games, resell them when you're done and mine to earn free ones! We're committed to disrupting distribution to be more fair, transparent and inclusive, changing the standard forever because it's time.
If you're interested in Robot Cache, head over to our signup page to become a Robot Cache Founder (or hot tip; redeem code FASTPASS at https://www.robotcache.com/redeem-code and receive:
Access before the general public
Founder's Mining Boost

Name Reservation

 

A 

Founder'

s Badge

 
PLAY. MINE. SELL.