Ready Set Mine
9 months ago
Today we have announced our next Mining Bonuses. Our latest round of Mining Bonuses feature Distrust: Polar Survival & Theatre Of War 2: Africa 1943. Are you ready to earn free games? It's time to Ready Set Mine.
Tell Me More About Mining Bonuses
Mining Bonuses is an opportunity for you to earn free games by opting-in and turning on your miner in the client (you can download it from the main navigation) and watch your Mining Bonus hours tick up. In order to receive the games from our Mining Bonuses program, you must mine for a specific amount of hours in the mining goal to unlock the reward. In this case, you must mine for 10 hours to receive Theatre Of War 2: Africa 1943 and 80 hours to receive Distrust: Polar Survival. The good news is you have two weeks (November 19 – December 3) to mine for the specific hours. And you don't have to mine for these hours straight. It's a counter. Once you unlock your free reward, claim it within 7 days and let the fun begin. Please note: Games earned from Mining Bonuses cannot be resold. In addition to earning free games as part of Mining Bonuses, you also are earning IRON, which is our virtual currency that can be used to purchase games.
Mining Bonus Reward
The current Mining Bonus rewards are Distrust: Polar Survival & Theatre Of War 2: Africa 1943. It resets on December 3rd, 2019 so don't delay!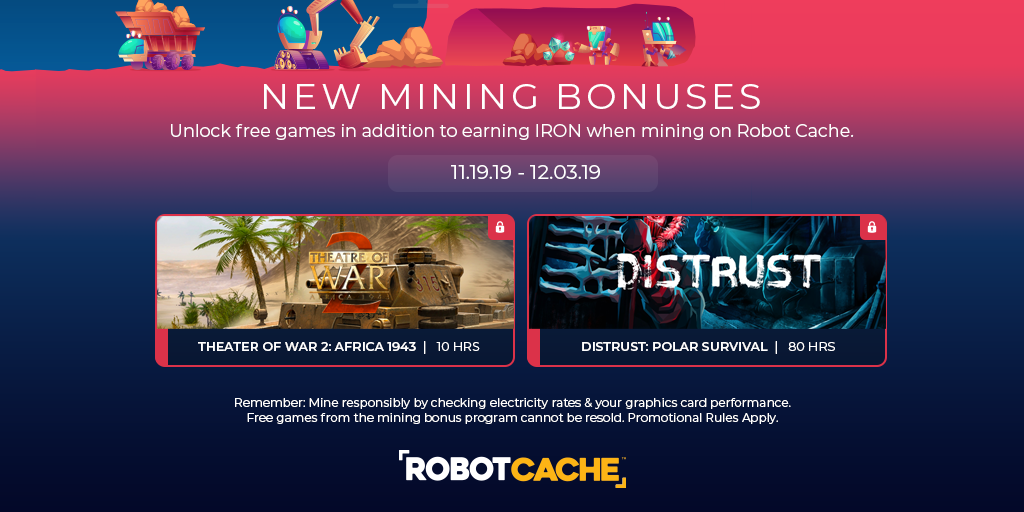 To learn more about the terms and conditions of Mining Bonus click here.
About Robot Cache
Robot Cache is the world's first videogame marketplace to buy PC games, resell them when you're done and mine to earn free ones! We're committed to disrupting distribution to be more fair, transparent and inclusive, changing the standard forever because it's time.
If you're interested in Robot Cache, head over to our signup page to become a Robot Cache Founder (or hot tip; redeem code FASTPASS at https://www.robotcache.com/redeem-code and receive:
Access before the general public
Founder's Mining Boost

Name Reservation

 

A 

Founder'

s Badge

 
PLAY. MINE. SELL.
Learn more at www.robotcache.com