Cache Is King! – Robot Cache's Challenges & Rewards System
4 months ago
In addition to our core functionality, Robot Cache has introduced RC Rewards, an ever-expanding challenge system where Cachers can earn fun rewards. By fulfilling platform and game-specific goals while remaining active, Cachers can expect to receive a variety of rewards including profile frames & badges to show off your style, IRON grants to purchase games, and the coveted mining boosts to help you mine more efficiently.
Brace yourselves and take a look at how RC does gamification.
Challenges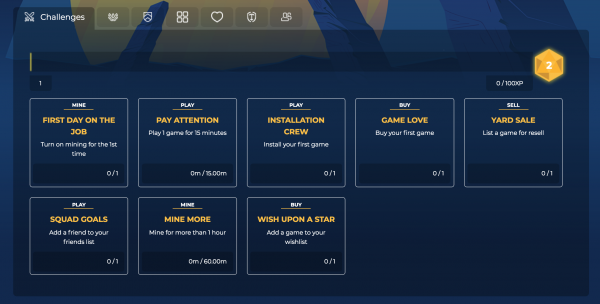 Complete challenges to level up, and earn rewards (sounds simple, right?)
All current challenges can be found 0n the Profile screen. Just click the "photo" icon in the top-right corner to access these tabs. Additional challenges and levels will be added in the future, with designated rewards for completing each one.
The challenges are divided into four main categories: PLAY, MINE, BUY and SELL.
Completing a challenge in any category will reward Cachers with XP.
PLAY
Get rewarded for playing your favorite games with challenges like playing games from various genres and logging hours in a variety of games.
MINE
Use your computer to mine for cryptocurrency and get rewarded in IRON to earn FREE games and reap even more rewards!
BUY
As soon as you buy your first game, you'll increase your XP. Load up your RC Stash with all of your favorites to get even more awesome things for your profile.
SELL
Once you are finished, resell your games to earn cash and/or IRON while you level up! #PlayNowSellLater
Gaining XP will eventually lead to leveling up, which will unlock a whole slew of other rewards that we will cover in the next sections. The progress bar showing XP can be checked in the "Challenge" tab of the profile page.
Unlocking Gems
Each time a Cacher levels up, a Gem is unlocked. Opening the Gem will unlock the rewards for that level, and apply them to the account (frames, badges, boosts, etc.)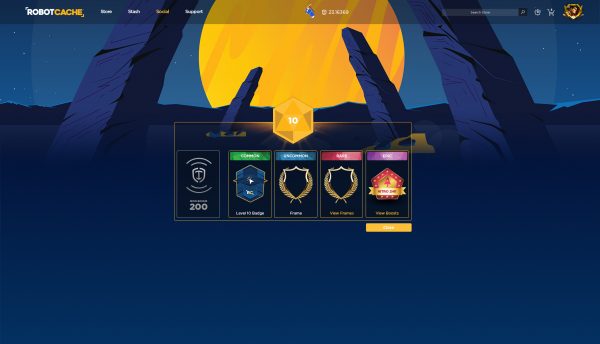 Gems contain both random and guaranteed rewards, and can ONLY be gained by leveling up through Challenges & Rewards.
You can view the rewards contained in your next Gem by clicking on the end of the Progress Bar. Not all rewards will be totally visible (see below: the first two rewards are guaranteed, the next two are totally random, and the last one is a guaranteed EPIC.)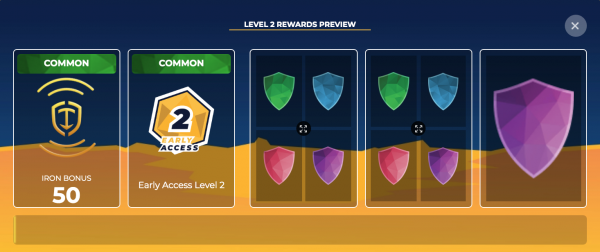 Gems are but a vessel for your sweet, sweet loot rewards! Remember just for being a Robot Cache founder you already have rewards in your account just waiting for you.
Types of Rewards
Currently, there are four types of rewards that can be earned through leveling up and unlocking Gems.
1. Badges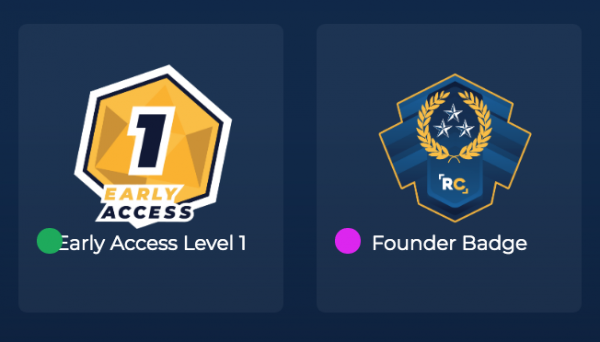 Badges live in the profile page and are essentially a record of your accomplishments. Every level has its own specific badge that can be unlocked by ranking up. Badges can also be earned in other ways.
2. Profile Frames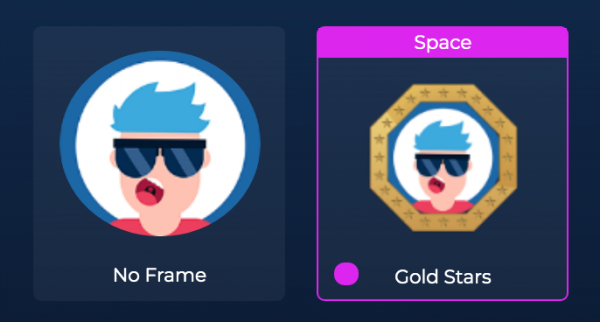 Customize your profile picture with an exclusive frame. Frames will range in rarity, and fall into different themes such as "Space" or "Ancient Greece."
3. Mining Boosts

One of our favorite types of rewards is the Mining Boost. A boost can be activated for a temporary period of time and will allow you to receive extra IRON for the time you've spent mining. Snag a legendary boost and you could be raking in some serious IRON.
4. IRON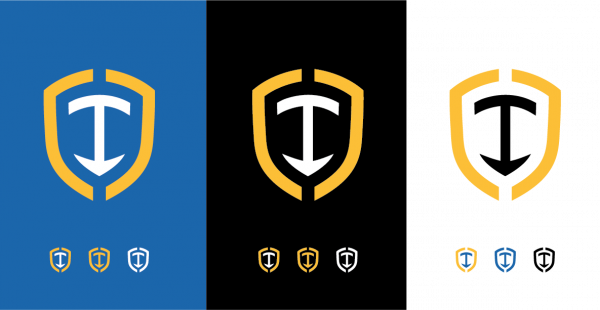 Cold. Hard. Cache?
The final reward type is the simple pleasure of IRON to spend. What's better than earning free games?
To sum it up :
1. Complete challenges to gain XP.
2. Gain enough XP to level up.
3. Level up to unlock a Gem.
4. Open that Gem, and enjoy the rewards within.
About Robot Cache
Robot Cache is the world's first videogame marketplace to buy PC games, resell them when you're done and mine to earn free ones! We're committed to disrupting distribution to be more fair, transparent and inclusive, changing the standard forever because it's time.
If you're interested in Robot Cache, head over to our signup page to become a Robot Cache Founder and receive:
Access before the general public
Founder's Mining Boost

Name Reservation

 

A 

Founder'

s Badge

 
PLAY. MINE. SELL.
Learn more at www.robotcache.com