Want to Partner with Robot Cache? Here's How…
4 months ago
Ready to sign up as a Robot Cache partner?
In this blog, we will guide you through the process of setting up your company and becoming a Robot Cache Partner.
Once your company has been set up, you will be able to publish your game on our store, upload assets, set pricing, provide game builds and configure game installation. Remember, if you have any questions about this process, becoming a Robot Cache partner, or releasing your game on the Robot Cache platform, you can find answers to many of your questions or speak with a representative at our Help Center.
Registration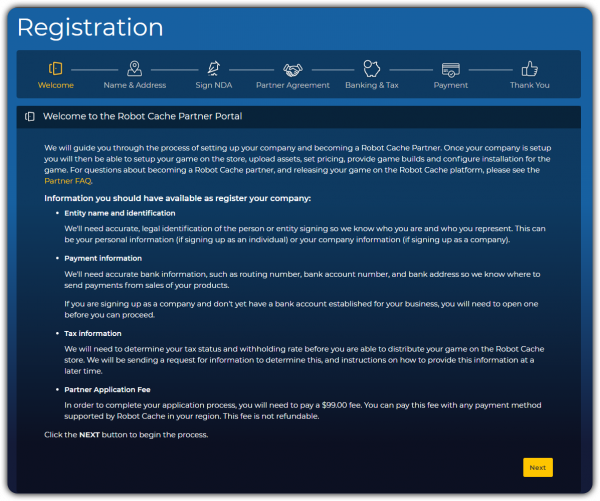 The first thing we will need from you is your basic company info. This includes:
Legal name and ID – We'll need accurate, legal identification of the person or entity signing.
Payment Info – Bank information, so we know where to send payments from sales of your product.
Tax Info – We will need to determine your tax status and withholding rate.
Partner Application Fee – In order to get fully set up, you will need to pay a $99.00 application fee.
        2. Agreements
There are two agreements that must be signed, the NDA and the Partner Agreement.
Just read and agree to the "Non-disclosure agreement (NDA)" by scrolling through the entire agreement and selecting "I Agree."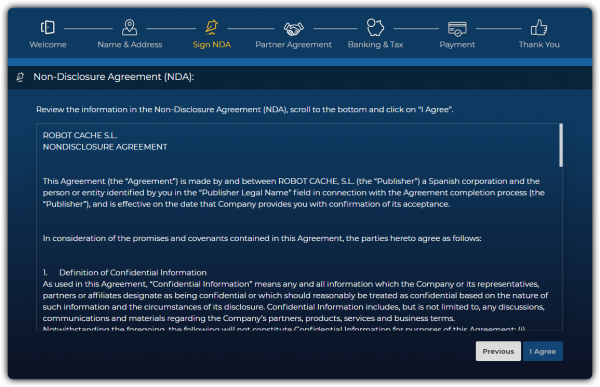 Same thing with the Partner Agreement. Read and agree by scrolling through the entire agreement and selecting "I Agree."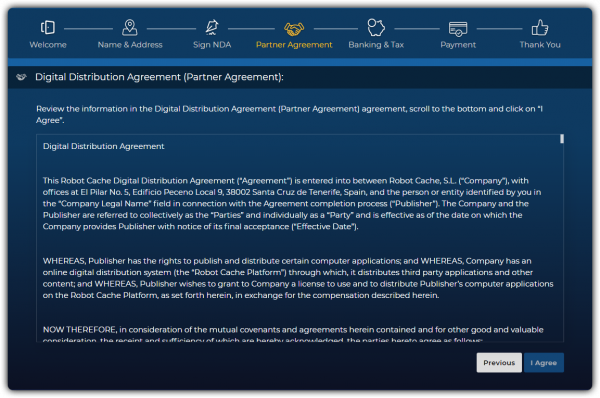 3. Bank and Payment Info
You will need to provide all the information required in the following fields. This section will be used for the deposit of royalties and tax purposes:
Account Holder Name
Bank Name
Bank Address
Account Number
Routing Number (if applicable)
Employee Identification Number (EIN)
Email Address for Financial Transactions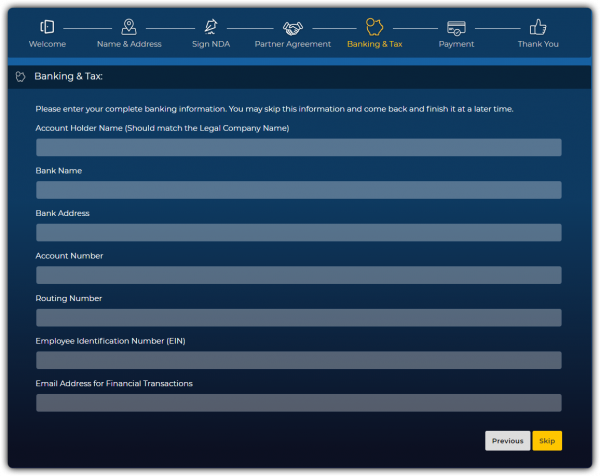 Additionally, we will need all the information required in the following fields. This information will be used when you pay for fees, etc.
Cardholder's Name
Credit/Debit Card Number
Expiration Date
CVC/Security Code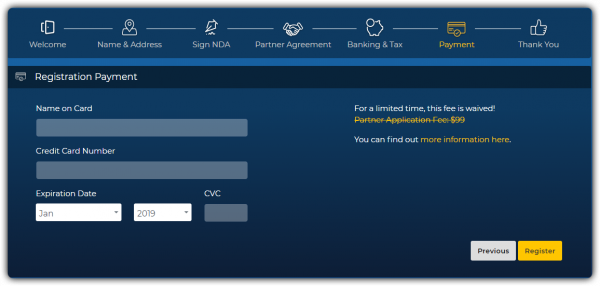 4. You're done!

That's it, just click "register" and you will now have joined the ranks of RC partnership. Thanks for joining the cause, and we look forward to working together in our mission to disrupt digital distribution!
---
About Robot Cache
Robot Cache is the world's first videogame marketplace to buy PC games, resell them when you're done and mine to earn free ones! We're committed to disrupting distribution to be more fair, transparent and inclusive, changing the standard forever because it's time.
If you're interested in Robot Cache, head over to our signup page to become a Robot Cache Founder and receive:
Access before the general public
Founder's Mining Boost

Name Reservation

 

A 

Founder'

s Badge

 
PLAY. MINE. SELL.
Learn more at www.robotcache.com