Early Access is Now Open
4 months ago
Robot Cache is officially open for Early Access!
Robot Cache Founders, 
We have big news. What was a crazy, thread of an idea – creating a path towards selling digital games – has become a reality! Many of you were believers from the beginning and we appreciate your patience and support so much.  
Changing the status quo doesn't happen overnight; we've been diligently working behind the scenes to design and code a storefront and client, integrate blockchain technology to support the resell feature and build the infrastructure for our mining capabilities; not to mention get over 50+ publishers and developers to support us and trust us with their content! 
As of today, we're ready to start Early Access, but we thought it was worth a minute (or two) to outline what Early Access means to us. As a storefront, it's important for us to methodically test live transactions, plus the features that make us unique like resell queues, mining payouts and more. Some of this is never before done type stuff and as smart as our engineers are, there are bound to be issues we didn't anticipate. 
Rest assured, if we make any missteps, we'll make it right.  
You, our Founders are amazing, and in return, we'll ensure you make your way onto the platform before the general public in a series of weekly "waves" as we test our service at scale. In addition, Founders will receive an exclusive badge, profile frame and mining boost (we'll hook you up with more goodies in the future too).  
Founders are also Testers, assuming you wish to accept this mission! We need your recommendations, bug list, annoyances; basically, all the feedback! Today, we'll flag the first 500 accounts that ever signed up.  
Soon (as in when we're ready for a lot more people) we'll have a recruitment program so our Founders can earn IRON (our site's virtual currency). Some people just can't wait any longer 😊, so in response, we've created Fast Passes that you can win (a code with immediate site access) from our social channels.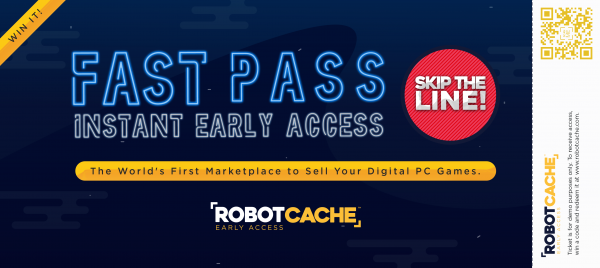 Keep an eye on our social channels and our ongoing promotions, as we will be giving these passes out whenever possible. Participate in our promos and contests, and you could be entering Early Access earlier than you expect. We'll be nice and make sure if we see you out and about on Instagram, Facebook or Twitter, we'll hook you up! 
Also, be sure to join our discord!
Lastly, if there are games you'd like to see on our platform, please help spread the word by telling your favorite developers to support Robot Cache. You can also let us know which games you really would like to see on the platform, and we'll try to focus on those.  

Features We Have:
A 

modern, visual storefront 

and client 

with the ability to buy games using VISA, Master Card and IRON (for the list of countries and currencies visit our Help Center)

1

50+

 games from

 50+

 publishers and developers

 

around the world 

with more being added every week

 

A resell queue that allows you to list a game for sale and earn 25% back on the purchase

 

An easy way to

 mine various cryptocurrencies and be rewarded back in IRON 

 

RC Rewards – a fun way to be rewarded for your activity and purchases on the site

 

User Profiles to show your flair, achievements, and progression 

 

Wishlist to flag games you may wish to purchase later

 

Phase 1 of Squads (Friends) in preparation for chat and messaging…

 
Features Targeting Launch:
Expanding upon our early implementation of friends, enhancing the user interface and adding c

hat

/

messagin

g

 

Game achievements and statistics

 

Game leaderboards

 

Additional Platform Challenges and Rewards

 

Additional Payment methods including Pay Pal (let us know which are most important)

 

Additional support for more countries and currencies

 

Adding more graphics cards to our 

list of supported cards

 

#FreeGameFridays and fun promotions 

 

Mobile 

and Tablet 

responsiveness

…we'll make progress on our mobile UX along the way!

 
SDK – Circuitry 
We have achievements, stats, leaderboards, matchmaking, & cloud saves! Yes, cloud saves!!!

 

Multiplayer and some other enhancements coming soon™

 

As more developers integrate Circuitry, you'll see these features come online.

 
If you are already in, GLHF! If not, don't worry RC will be available to you soon.
RC Out