How Much Do Game Developers Get Paid?
1 year ago
More and more of us who grew up loving games are getting the opportunity to actually make them. The results are a far more original, personal, and widely creative landscape for developers. But the growing indie space is also creating a ton of competition, making it harder to get your game into the right places (ahem…Partner Portal) and realize the profits of your work. So to address the blog question, how much do game developers get paid? We will do our best to answer this question.
We are living through a super exciting era for video game developers!
Recently, Developer Economics published some numbers on Game Dev Revenue. They spell out an exciting future, but also pose some important questions.
Let's take a quick dive into the statistics.
How Much Do Game Developers Get Paid?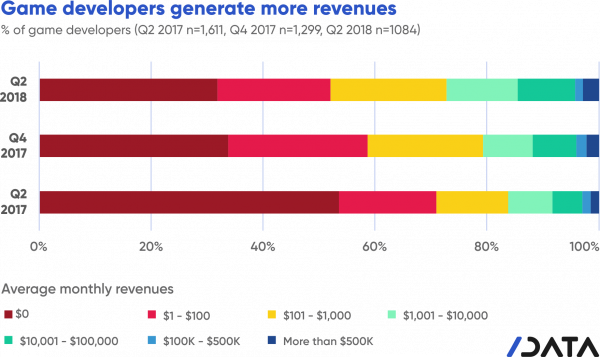 The most apparent thing to note here is that the percentage of developers making over $1,000 per month has jumped noticeably, as has the percentage making over $10,000 each month. Unfortunately, the segments are a little vague (10k to 100k is a large net to cast, we could benefit from a more granular view.)
The number of developers making zero revenue has also dipped dramatically, from around 55% to around 30%. Plus, the amount of devs making between just 1 and 100 dollars has also started to dip in that last quarter.
Let's hear it for the smaller indies!
What we've seen is that the best way to increase revenue is to create new sources of income.
Developers are actually starting to move away from revenue sources like advertising, and in-app purchases. Instead, many developers are finding profit from selling assets like plugins to other developers. This is quickly becoming one of the more lucrative methods of generating income (and one that doesn't hurt the gamer in the least.)
But the reality is that Devs are constantly looking for more ways to fund game creation, and sometimes that need falls onto the shoulders of gamers. This result can be terribly frustrating for consumers, and their wallets.
So how can developers make more money, while still benefiting the people who buy their games?
Step one, we believe, is simply giving developers more money! Robot Cache changes the traditional 70/30 split, into a much more enticing 95/5 revenue split. That's more money in the developers pocket, without even trying. But it needs to go farther.
We believe we can solve this problem with one simple idea: resell. 
Robot Cache has created a new technology that allows for the reselling of digital games. 25% of the profits from a resold game will go to the gamer who sold it, and 70% will go straight to the developer. That's the same percentage that developers currently make from a brand new game being sold on most major marketplaces. But this time it's an additional profit. The original sale (for 95%) has already been made. Learn more about our Partner Portal.
Resell is the future of digital sales. It will create an entirely new source of income for developers, without charging gamers a single cent.
That's what we like to call…
#Everybodywins
---
About Robot Cache
Robot Cache is the world's first videogame marketplace with a revolutionary digital resale model. We're committed to disrupting game distribution, making it more fair, transparent and secure. 
Our groundbreaking economic model is a victory for both PC gamers and game developers alike. We share in only 5% of the transactions, so game makers keep more profits to reinvest in making more great games. For gamers, buy games, play games, and for the first time ever…resell your digital purchases! Our innovative mining feature also allows you to mine and be rewarded in IRON, which can be used to earn more games!
If you're interested in Robot Cache, head over to our signup page to become a Robot Cache Founder and receive:
Access before the general public
Founder's Mining Boost

Name Reservation

 

A 

Founder'

s Badge

 

FREE IRON, When You Refer A Friend

 
PLAY. MINE. SELL.
Learn more at www.robotcache.com