What Is The Value of IRON
1 month ago
We still get a lot of questions regarding IRON, so we want to take a minute to clear it up!
As our business has evolved so has the need to structure our digital currency to prepare for our launch. Before we start, let's iron out the details (pun intended) on What IRON is and isn't.
IRON is not a cryptocurrency
It's a digital currency meant to stay in the Robot Cache ecosystem 
Did you know? IRON cannot be traded or sold  
One of our main goals from the start has been to peel away the layers of mystery that always seem to veil the world of Blockchain, creating an ecosystem that is approachable regardless of your knowledge or background.
This approach has inspired us to take another look at the value of IRON, and in doing so have found what we believe to be the perfect exchange.
What Is The Value of IRON?
100 IRON will now be equal to 1 US DOLLAR
We believe this rate will make the buying process as quick and easy as possible…remember each purchase can be split tender between IRON and the real-world currencies that we will support (you can use as little or as much IRON as you wish to offset the cost, even down to the penny!).
And as always, when you choose to spend your IRON on a purchase is entirely up to you.
Please Note: Any IRON you currently have in your account will now be valued at this rate. We're adding a 25% bonus to cover the conversion rate difference plus a little extra – because that's how we roll. #everyonewins!
For example, if you have 5 IRON in your wallet, you'll now have 625 IRON
What if you don't have any IRON at all?! First, if you haven't signed up to be invited to Early Access, click here!

There are plenty of ways to earn! Follow our social channels to take part in our ongoing Giveaways and Promotions. We always have something cool going on, so feel free to jump into any of these spots:

Facebook
After launch, you will have even more ways to earn!
In addition to our ongoing promotions, Cachers will have two main methods to earn IRON: reselling games and mining.
If you're curious about how mining works (it's as simple as flipping a switch) you can check out our blog on the topic here.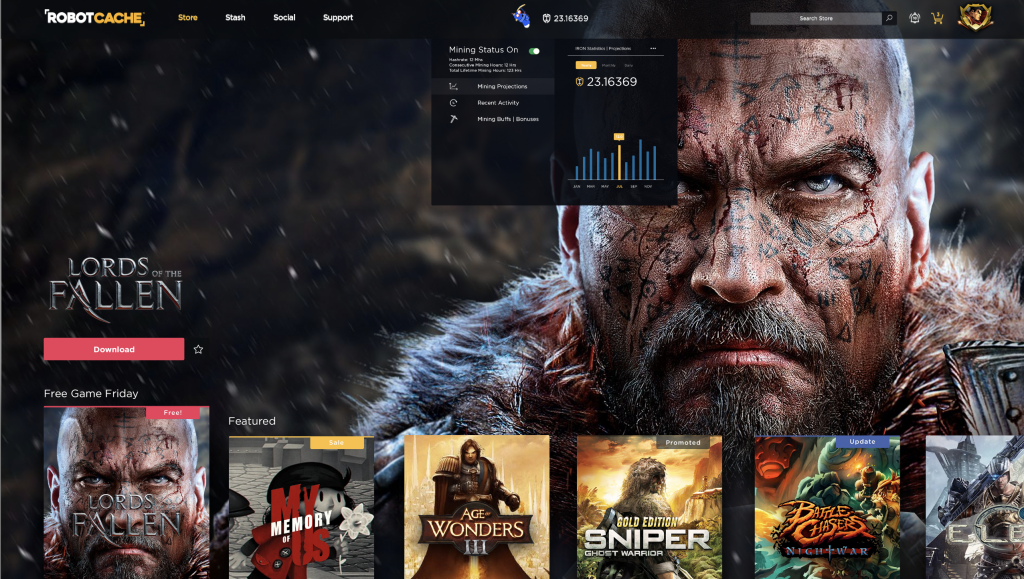 The future is almost here!
We're so excited to provide a platform that puts gamers' interests at the forefront.
Free games, reselling, and mining for IRON is just the beginning of a journey towards a fair and equal playing field for all fans of videogames and the people that make them.

– RC OUT –