Digital Distribution is broken! Here's how we plan to fix it.
4 months ago
Robot Cache believes that Digital Distribution is broken.
That's why we're committed to leading the charge-for-change in the ways of Digital Distribution, by supporting the people who make the games we love.
2018 was an awesome year for indies, and some of our favorite games came from the inventive minds of just a small group of people. But indie developers work super hard for our dollars, and often don't receive their fair share.
Learn more about how Robot Cache has disrupted the industry so far here.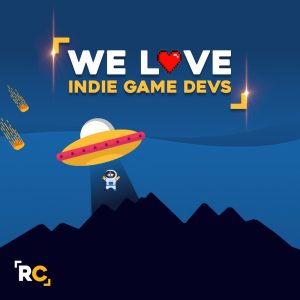 That's why Robot Cache provides the best revenue split of any gaming marketplace. 
We offer all developers a 95/5 revenue split so that they keep more of their hard-earned profits to pour into creating more great games. See how that's a self-reinforcing loop? 🙂
But we don't stop there.
As industry veterans, the RC team knows how difficult it can be to properly deliver a game to customers. Robot Cache will not only provide developers with numerous promotional opportunities but also the tools to track and understand content performance with data, analytics, and tagging capabilities.
Our UX focuses on highlighting great art, making games appear as attractive as possible because we're featuring you guessed it, game art! And because the shopping experience and navigation is more similar to social feeds, it feels familiar. Along with Cache Crates, Challenges, Featured Games, and fun Daily Promos, among many more, there's always a way to get your game into the right hands.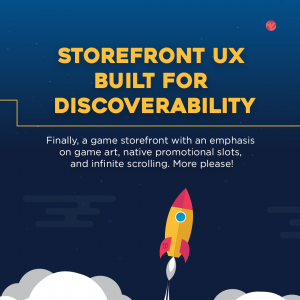 This will also allow players to find the games they care about faster, resulting in less searching and more playing.
#EveryoneWins
Here you can create an account, and upload your game with all of its assets so that it's ready to go when Early Access launches. We welcome all to submit games, no matter the size of your team. Our curation team will review and get back to you!
As always, we are incredibly thankful for all who have supported us along this path to change. It's your support that will fuel our revolution and change PC gaming for the better. Let's make resell the standard, forever.